Where is Osaka?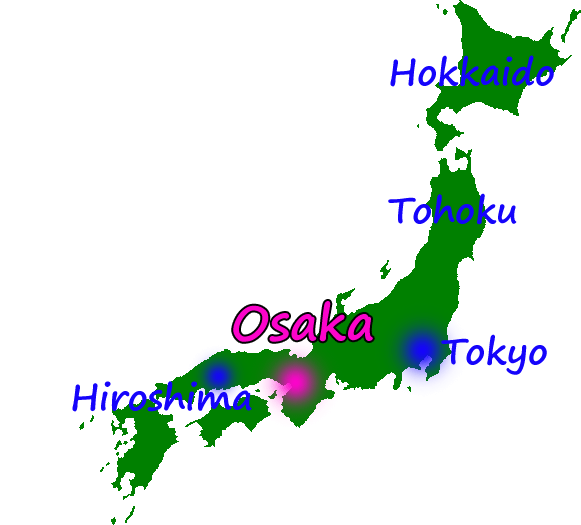 Japan is composed of 4 major islands, Honshu, Hokkaido, Kyushu, and Shikoku, plus many smaller minor islands.
Osaka is lcated on the western half of Honshu, the main island of Japan. The city of Osaka has a population of 2.6 million, and is the third largest city in Japan. Osaka is about 500km (300 miles) west of Tokyo, the present capital of Japan.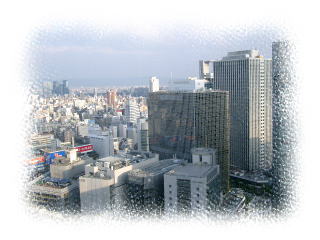 A Shinkansen-train (Bullet train) from Tokyo, which travel at 300km/h (186mph), will bring you to Osaka in about 2 hours.
Of course a direct flight into Osaka's Kansai International Airport is possible from many cities around the world. The airport is located on a artificial island in Osaka Bay, southern Osaka.
Vicinity of Osaka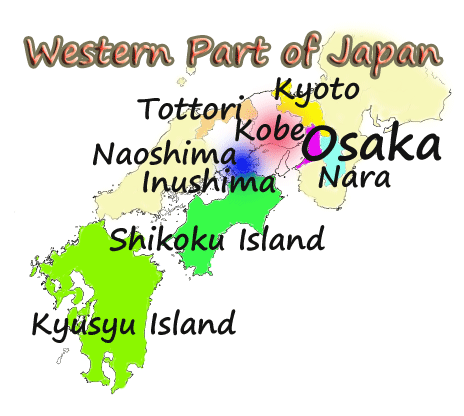 Osaka is close to Kyoto and Nara, the ancient capitals of Japan, Kobe, the port city, and Himeji, the location of Himeji castle, a World Heritage Site.
The sacred mountain Koyasan, is about an hour away from Osaka. You may also enjoy many day trips to other areas around Osaka.
Osaka is also a convenient starting point for visit to many of Western Japan's famous cities such as Hiroshima and Nagasaki (http://www.at-nagasaki.jp/foreign/english/).